Pasted Valve - PV

Pasted Valve sacks are made of flat tubes. Both ends are folded to produce hexagonal ends. There is a small opening for the valve in one corner of the bag which is filled through a spout linked to any kind of filling equipment.
However, there are many kind of valve construction can be produced depending on the requirements. Valve inserts of paper or film can be provided to improve the siftage protection or strengthen the valve corner.
Pasted Valve sacks are ideal solution for packing of powdered and granular commodities such as cement and other building materials, chemicals, food, minerals, etc.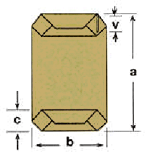 Specify:
Flat Width x Flat Length x Bottom Width (b x a x c )